Long, shiny, thick, healthy hair is always the goal. Unfortunately, only a few of us actually wake up with shampoo commercial worthy tresses. I for one, have never had naturally silky, smooth, hair and have always been envious of my friends who did. I, like most, have always had a [love] hate relationship with my frizzy, thick, poofy, tangly, unmanageable hair. Remember Mia Thermopolis from the Princess Diaries pre glow up? Yeah, that's pretty much my hair if I let it air dry with no product.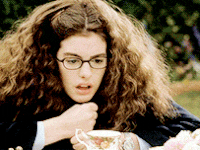 Luckily, I grew up with a mom who was always religious about getting her roots touched up and a trim every 4-6 weeks and would let me tag along with her to the salon for a trim and some highlights here and there. Even as a tween, I remember asking (and probably annoying) my hairstylist hundreds of questions about which products I should use to tame my frizz, mend my split ends, add shine, enhance my highlights, or whatever else I was wanting to do to get magazine worthy hair. As I grew older and continued my mom's routine of frequenting the hair salon I continued to ask my hairstylists about the newest products to drop and for all the tips and ticks get healthy hair. I've also become a lowkey product hoarder (hey, it's research), and have tried just about every treatment, product, and hair tool out there. Not gonna lie, I would literally eat worms and roll around in the dirt if you told me it would give me Kardashian hair.
Before my wedding I had gotten tape in hair extensions and absolutely loved the look of thick, full, and healthy hair. I had pretty much given up on the idea of growing my hair out super long, since it never seemed to look as healthy once it got past my shoulders. My ends would always split and my hair would look dry and stringy. Not cute.
When I knew I would be in Chicago all summer, and didn't want to deal with the upkeep and reapplication of my tape ins, I had my hairstylist remove my extensions and asked her to give me a simple blunt cut that made my hair look super thick and healthy. Since I was spending the summer in a new city where I didn't dare trust anyone I didn't know to touch my hair, I decided to step up my at home hair routine. Much to my surprise, the other day, while styling my hair, I noticed how long it has grown and how healthy it has become! So here are the 6 simple things I did to grow my hair out this summer and my favorite hair products for healthier hair.
1. Brush it Out
I know brushing your hair seems like such common sense, but how you brush, when you brush, and using the right type of brush for your hair type makes all the difference in the world. A few months ago I was noticing that my hair was looking a little dull and no matter how much I washed it, I seemed to always still have product residue on my scalp. It turns out that the hairbrush that I was using needed to be replaced, since I had it for a while and it had a lot of product build up on it that was transfering onto my hair (EW). Once I replaced my brush, I immediately noticed a difference in my hair. I went for the T3 dry vent brush, which had holes designed for airflow, while blow drying my hair. I also love that it is white, which means I can see any hair or product that gets transferred onto it, making it easy to clean so that none of the product get stuck in my hair. Before I wash my hair I spray a little leave in conditioner in it and brush it out starting from the ends to remove any tangles and work my way up to the scalp. This makes it easier to shampoo and condition my hair more evenly. I also keep a wide tooth comb in my shower and run it through my hair once I've added conditioner to evenly distribute the product. Another thing I do, is brush my hair every night before I go to sleep, really focusing on my scalp. Brushing your scalp will stimulate your hair follicles making it easier for the hair to grow.
2. Treat Yo Self 
I never miss an opportunity to treat my self, especially when it comes to my hair! I was first introduced to hair treatments back when I was in college and was heavy into bleaching my hair (dark times for me). My hairstylist definitely hated me a little bit for ruining my hair and recommended doing a weekly treatment to bring it back to life. I've tried a lot of DIY treatments and products over the years and have come across some real winners. When I want to go the DIY route, coconut oil is definitely my go to (Trader Joe's brand is my favorite). I've recently upped my treatment game from once a week to twice a week and sometimes I leave it on overnight when I notice my hair feeling extra dry. The longer you keep a treatment in, the better.
3. Do a Cleanse 
Don't worry, not that kind of cleanse. Sulfate free and all natural shampoo and conditioner have become super popular in recent years, due to the lack of artificial ingredients and harsh chemicals. I, of course jumped on board and switched my products to sulfate free to avoid exposing my hair to those nasty chemicals. A couple months ago I noticed my hair seemed to always be oily, even right after washing and blow drying it. I found myself reaching for my dry shampoo more than usual. When I asked my hairstylist what she thought the problem was she immediately asked me if my shampoo and conditioners were sulfate free. "Of course!" I said, knowing good and well that sulfate free products were all the rage. To my surprise she told me that while sulfate free products were great, since they don't lather up, they always get all the product and oil out of your hair, which can cause more build up over time. She suggested that I add a clarifying cleanser to my routine once a week to help remove all that dry shampoo and oil and it has made a world of difference!! My hair now feels squeaky clean after using it and I can go even longer between washes.
4. Turn Down the Heat
As someone who has been using hot tools pretty regularly since the 5th grade (RIP to my OG Conair straightener), I am all too familiar with the damage that heat can do to your hair. I've gone through it all — split ends, dry brittle hair, and even breakage. And.. it sucks!! However, I've learned over the years how unnecessary it is to use my hot tools on the highest heat setting. Every hairstylist that I've asked has told me, there is never a need to use your hot tools on high and the best tip I've ever received was to figure out the lowest heat setting you can use to style your hair. Everyone has a different hair type and some don't need as much heat as others. Investing in a hair dryer, straightener, and curling iron with multiple heat settings was a big game changer for me. I was able to play around with the different heat settings and learned that I can get the same results by styling my hair on low heat settings as I can with high settings. The only difference is I don't burn my hair off!! I've also begun to wash my hair at night more often so that it air dries while I sleep, and I don't have to blow it as often, and doing "no heat hairstyles" (usually a low bun bc I'm lazy) a couple times a week to give my hair a break from hot tools.
5. Protect Your Hair
Since I can't do no heat styles all the time, I always use good heat protecting products before I blow dry, straighten or curl my hair. I also apply a little on if I know I'm going to be outside all day, that way my hair gets extra protection from the sun.
6. Take Your Vitamins
Don't worry y'all, I'm not going to post an Instagram photo with a certain teddy bear shaped gummy. But I do know that adding collagen and hair strengthening vitamins to my daily routine has made a huge difference in my hair. Healthy hair grows from the inside out so upping your water intake, and adding a hair vitamin to your regimen will help you grow and maintain strong and healthy hair.
SHOP MY FAVORITE HAIR PRODUCTS